Consultation and Pricing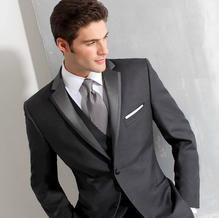 Pricing is grouped into four general options. Each option includes a tuxedo coat, pants, shirt, vest, tie, and shoes. We have tuxedo options for all budgets. Please contact us to set up a consultation so we can give you our pricing options.
Only need a vest and tie to freshen up the look of your personal tuxedo?Tux On Nine can take care of that as well.
Most of your groomsmen out of town? No problem. Simply download the convenient"Measurement Card" Measurement, print and take it to any formal wear retailer and they can fill out the form with the proper measurements. Then, simply send those measurements to Tux On Nine to fill, no extra charge.
In from out of town and the airlines lost your luggage? We can help you with a tuxedo and deliver it to your hotel within 24 hours or less with our VIP rush service.
BACK